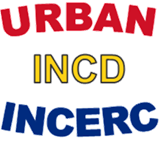 Description:
The National Institute for Research and Development in Construction, Urban Planning and Sustainable Spatial Development "URBAN-INCERC" performs studies and fundamental research of national and international public relevance, for the development of building sciences.
The RD&I activities of the institute are focused on two key directions:
safety

(fire, earthquake, extreme climate conditions, strategic territorial planning)

efficiency

(energy, acoustic, urban planning)
Main activities
Fundamental and applied research to substantiate specific regulations, policies, programs and strategies

In situ and laboratory testing on building elements and structures;

Development of technical and economic regulations for quality assurance in constructions and appliances, including energy efficiency

Documentation, tests, audit, prototypes, analyses, syntheses, models, experiments

Development of databases with R&D and urban planning information

Consultancy and services in urban and territorial planning and construction
Key facts
the only Romanian national institute in the field

various experimental facilities

vast portfolio of national and international research projects

habilitation to carry out life-long learning activities

provides the secretariats of specialized technical committees and professional attestation commissions for civil engineering specialists

organism for certification of construction products & management systems
Key figures
65 years of tradition

five branches in four important cities of Romania: Bucharest, 

Cluj-Napoca, Timisoara and Iasi

over 100 researchers, design engineers, architects & sociologists

18 research & testing laboratories

editing four journals

two scientific & technical libraries with 55,000 books and over 200,000 periodicals
URBAN‑INCERC participates, together with the Romanian Ministry of Regional Development and Public Administration, MDRAP, in the "EUR‑OPA Major Hazards" Agreement of the Council of Europe, by the European Center for Building Rehabilitation, ECBR, which is part of URBAN‑INCERC. ECBR collaborates with several similar European centers in the field of seismic hazard mitigation, which are also part of the EUR-OPA Major Hazards network.
International certifications and affiliations
Profile:
INCERC Bucharest Branch
Laboratory "National Seismic Network, Seismic Risk Assessment and Actions on Constructions"
Activities
Advanced analysis of the behavior of building structures to various actions

Strategies for disaster prevention and earthquake education programs

Structural investigations of buildings, before and after earthquakes

Measurements of dynamic characteristics of buildings

Technical and technological solutions for the mitigation of seismic effects on buildings

Seismic pre-normative research and regulations
Contact Person(s):
Assoc. Prof. Dr. Iolanda-Gabriela CRAIFALEANU
Dr. Emil-Sever GEORGESCU
Dr. Claudiu-Sorin DRAGOMIR
Address:
Sos. Pantelimon No. 266, Sector 2, 021652, Bucharest