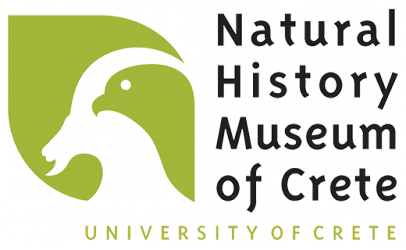 Description:
The Natural History Museum of Crete (N.H.M.C.) was established as a department of the Faculty of Science of the University of Crete. A big group of specialists in the fields of biological and geological diversity is part of NHMC staff (12 out of 32 Employees).  It has fully equipped laboratories and complementary infrastructures covering an area of 2,000 m2. The museum is a pioneering institution at national and European levels, in the fields of:
Basic and applied research for the protection and conservation of the natural environment, of its bio- and geo-diversity and of its endemic or rare forms of life.

Management and conservation of the natural environment, geological heritage and ecosystems.

Scientific consultancy to several public bodies and the UNESCO concerning the European and Global Geoparks Network.

Development of complete geological, botanical and zoological collections.

Education, public environmental awareness and lifelong learning at its Exhibition Halls located at the old harbor of Heraklion, that cover about 4000 m2.
The N.H.M.C. has developed collaborations with many national and international organizations acting on environmental and lifelong learning education, as well as with many civil protection institutions. It has developed more than 110 research and applied projects funded by National and European sources. 
Profile:
Despite its scientific and academic activities the Museum, through its new exhibition hall, is very active in raising public awareness on various natural aspects, training of schools, teachers and many other target groups, development of educational activities and products and in contributing to the sensitization of inhabitants and visitors of the island. It has developed collaborations with many national and international organizations acting on environmental and long-life learning education, as well as with many institutions related to civil protection, having developed many national and European projects. More specific projects related to raising awareness, education and civil protection are listed below:
DEVELOPMENT OF MODERN AND HIGH TECHNOLOGY EDUCATIONAL AND SUPERVISORY INFRASTRUCTURE IN THE NEW NATURAL HISTORY MUSEUM OF CRETE (Installation of an Educational Seismic table), funded by Regional Operation Program of Crete/EU, from 1/4/2007 – 31/5/2008, (coordinator). More than 150000 visitors have experienced the simulator up to now.

Teaching Methods and Pedagogical Strategies for the Promotion to Schools of CONservation and Sustainable Development of FRESH water Ecosystems. (CONFRESH), funded by EU/SOCRATES: 2005-2008, from 10/1/2005 – 30/9/2008, (partner).

Voluntarism and the Protection of the Environment: Invigoration of the Voluntary Centre of NHMC of the University of Crete for the monitoring of environmental issues at NATURA regions on Crete, funded by the Ministry of Environment, from 7/7/2003 – 30/6/2004, (coordinator).

PATCH-Prevention, Analysis and Tools for Cultural Heritage, funded by DG Environment, 070401/2009/540426/SUB/A4, 2011-2012 (Partner)

RACCE, Raising Earthquake awareness and coping with children emotions. Funded by DG Environment of EC, GA070401/2010/579066/SUB/C4, 2011-2012 (Coordinator)

SEE – Safeguarding Educational Environment" – Funded by ECHO/SUB/2012/638511, 2013-2014 (partner)

RISK Risk Management via an innovative System Based on Knowledge, funded by  ECHO/SUB/2012/638448, 2013-2014, (partner)
At the present, NHMC is also coordinating the EVANDE and participating in CPMODEL civil protection projects.
Furthermore, as the island of Crete is located in one of the most seismic areas of Europe and faces serious desertification problems, the museum has undertaken many research studies related to seismic risk assessment and protection. Since summer 2009 it operates an Educational Seismic simulator, resembling a school classroom, on which special educational projects to raise seismic awareness are implemented for schools and visitors.
Contact Person(s):
Dr. Charalampos Fassoulas
Address:
Knossou Av. Premises, 71409, Office P212, Heraklio, Crete